Image

The Office of Equity, Diversity, & Inclusion, working in collaboration with the Tulane University Leadership Institute (TULI), offers the Anti-Racism Leadership Program (ARLP), which provides leaders from across the university the opportunity to develop the skills and understanding necessary to contribute to institutional anti-racism initiatives at all levels of the University. Offered to Tulane University employees at all levels, the ARLP is a strategic and professional growth opportunity for high performing Tulane University employees that are interested in learning about the foundations of anti-racism work, engaging in discussion around anti-racism topics and initiatives, and sharpening their leadership skills to practice effective anti-racism leadership.
2023-2024 ARLP Cohort Members: 
| | |
| --- | --- |
| Dolly Anadkat | Charlotte Battiest |
| Tracey Braden | Denise Cordova |
| Sonia Cutno | George Garrett |
| Constance Gistand | Theresa Glissman |
| Kelly Grant | Dale Hall |
| Stephen Hanson | Lauryn Hudson |
| Myriam Huet | Angela Keyes |
| Justin Lamb | Jennifer Manuzak |
| Stephen Medley | Syd Nelson |
| Ellen Noble | Angelique Phipps |
| Serina Phoenix | Caroline Rhodes |
| Martha Silva Acuna | Cameron Simmons |
| Angelique Smith | Amber Stalcup |
| Rachel Weber | Alisha Williams |
| Shae Williams | Jessica Young |
2023-2024 Anti-Racism Leadership Program Members
About the Anti-Racism Leaders Program (ARLP)
What is Anti-Racism?
The term "antiracist" refers to people who are actively seeking not only to raise their consciousness about race and racism, but also to take action when they see racial power inequities in everyday life.
Being an antiracist is much different from just being "nonracist," as Black antiracist Marlon James (2016) made clear. Being a nonracist means you can have beliefs against racism, but when it comes to events like the murders of Black men by police, "you can watch things at home unfolding on TV, but not do a thing about it." According to James (2016), being an antiracist means that you are developing a different moral code, one that pairs a commitment to not being racist (whether verbalized or not) with action to protest and end the racist things you see in the world.
[Dr. Anneliese Singh] would add that saying you aren't a racist isn't enough to start healing from racism. You need the intentional mindset of "Yep, this racism thing is everyone's problem—including mine, and I'm going to do something about it. 
Reading Source: The Racial Healing Handbook
Program Goals
Image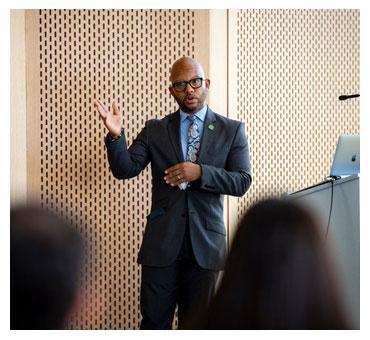 The Anti-Racism Leaders Program seeks to:
1.To bring together a network of dedicated, high-potential Tulane employees;
2. Provide Emerging Leaders the knowledge, skills, abilities, and leadership competencies, needed to be competitive and successful in today's organizational leadership landscape;
 
3. To explore the history of racism and other intersectional systems of oppression at Tulane and in New Orleans; 
4. To think critically about how racial inequities manifest in the workplace and strategies to create more equitable, diverse, and inclusive work environments; 
5.To think critically about systemic racism in organizational units to support racial equity;  
Additional Information
ARLP Curriculum
The Anti-Racism Leadership Program (ARLP) runs through the academic year, offering a series of monthly sessions that progressively guide participants through a profound journey of racial understanding, healing, and collective action. Our curriculum is thoughtfully designed to cultivate an inclusive and transformative learning experience.
Beginning with a focus on understanding racial identity and the historical context of racism, our program offers a diverse range of learning methods. Each month, we follow a structured 4-week cycle that includes a 4-hour in- person workshop, a 2-hour virtual live leadership panel, a 2-hour virtual live practicum session, and group meetings within racial affinity groups, thoughtfully assigned by our Equity, Diversity, and Inclusion team at the program's outset. Through this dynamic blend of synchronous and asynchronous learning, ARLP empowers participants to engage deeply with critical issues and embark on a collective journey of racial healing and leadership.
Each year, the ARLP curriculum is updated to reflect new findings and emerging research in today's EDI and leadership fields. To view this year's curriculum, please visit here:
2023-2024 ARLP Syllabus and Curriculum
ARLP Criteria
To be considered for the ARLP Cohort, all applicants must meet the following criteria:
• Demonstrates commitment to Tulane University and the larger community of New Orleans;
• Has the support of your direct supervisor and their supervisor in growing your skills and abilities with their full participation in the program as necessary;
• Is dedicated to improving organizational culture and driving initiatives;
• Has the ability and social influence to affect positive change within the organization;
• Is available for and committed to participating in all aspects of the 12-month program;
• Has the readiness to invest in lifelong learning and growth for the betterment of self, organization, and community.
All qualified applicants to this program will receive consideration for participation without regard to sex, gender identity, sexual orientation, race, color, religion, national origin, disability, protected Veteran status, age, or any other characteristic protected by applicable law or Tulane policy
Future Cohorts
The 2023-2024 Anti-Racism Leadership Program will run from August 2023 to May 2024. Applications for the 2024-2025 Cohort will open in Spring 2024. If you would like to be notified of applications for the 2024-2025 Cohort, please click below.
If you have any questions, please contact the TULI Team at: tuli@tulane.edu.